Peace of Mind | Emotional Support for Pets
Regular price
$137.00 USD
Regular price
$137.00 USD
Sale price
$137.00 USD
Unit price
per
Sale
Sold out
This is our OG formula and BEST SELLER! The Ashwagandha infused, full spectrum Hemp oil designed for the mental and emotional support of animals.
Peace of Mind is designed to give them exactly as the name describes. It is Ideal for for Fur Children Struggling with Separation Anxiety, Fear, Trauma or the inability to relax. This formula is especially loved by Rescue pups, as it is designed to assist in the rewiring of trauma!
Our Founder and Animal Communicator, Sarah Lea, saw a big problem in the management of mental health in animals. Far too many animals suffer from stress, depression, aggression and separation anxiety. She saw far too many animals' mental health being mismanaged with Xanax and other hard medications for pets… yes you heard that right, XANAX. Medicating an animal may be a band-aid but it won't aid in healing the root of the issue. We believe animals should be enjoying the full experience of life in their unique, domesticated experiences along side humans, This is why Heel was created; to support them (and their guardian) in achieving exactly this.

Customers report best results after 4-6 months, We highly recommend sticking with dosing Protocol for at least 6 months for best results, this is why we offer 20% off our 6 month Subscription!
One should always consult their veterinarian before administering any of our products, we are not licensed to give medical advice. The results and statements you read are statements of existing customers and their experience. Pet CBD and Hemp Oil is not FDA Approved, you are administering at your own discretion. We do not make any claims to the efficiency or safety of any of the products. We will not be held liable.
100% Natural Ingredients

This daily wellness product has only two ingredients;

Organic, full spectrum CBD
Organic, coconut derived MCT oil
Organic Ashwagandha

Pump dispenser

Ensuring utmost safety and preservation of the product.
Dosage & Instructions

We suggest starting with one pump once a day for three days and then adjusting from there. For Animals with Anxiety, Pain, Inflammation, arthritis, seizures and epilepsy, it is going to be key to create a solid routine.

Read more about the Cannabinoid System here
Shipping & Returns

You can return a product for up to 30 days from the date you purchased it for a full refund excluding shipping costs.

Any product you return must be in the same condition you received it, unopened and in the original packaging.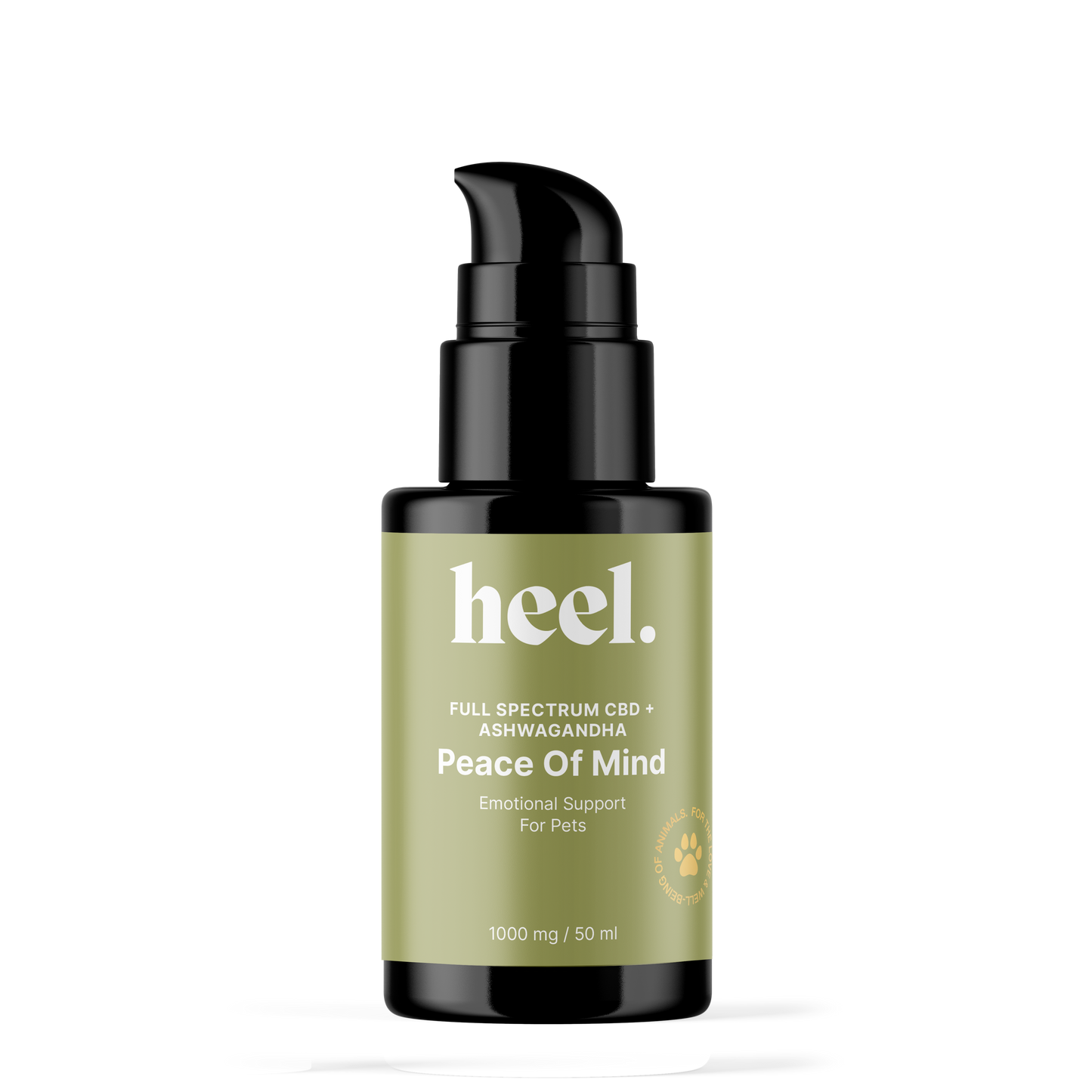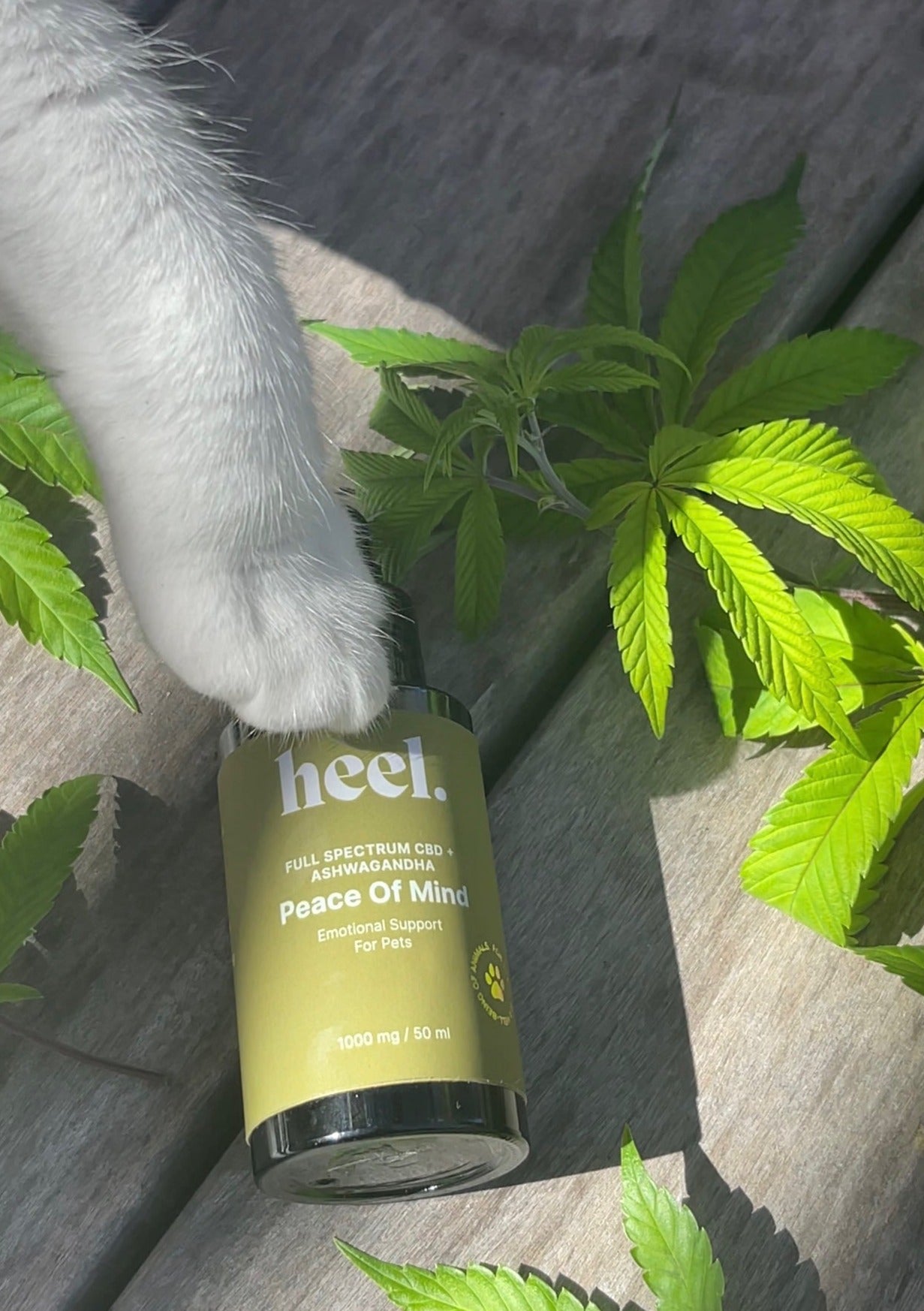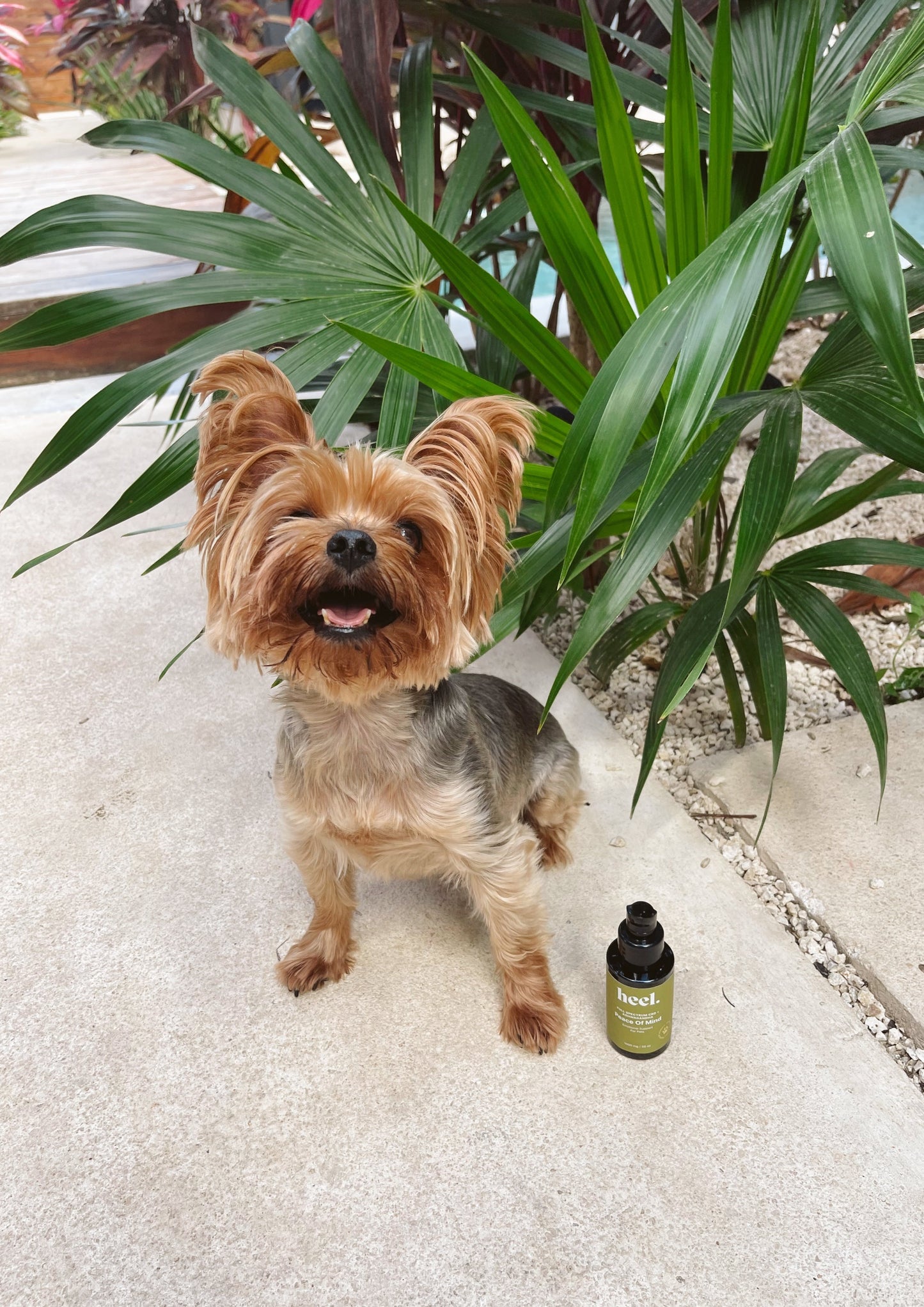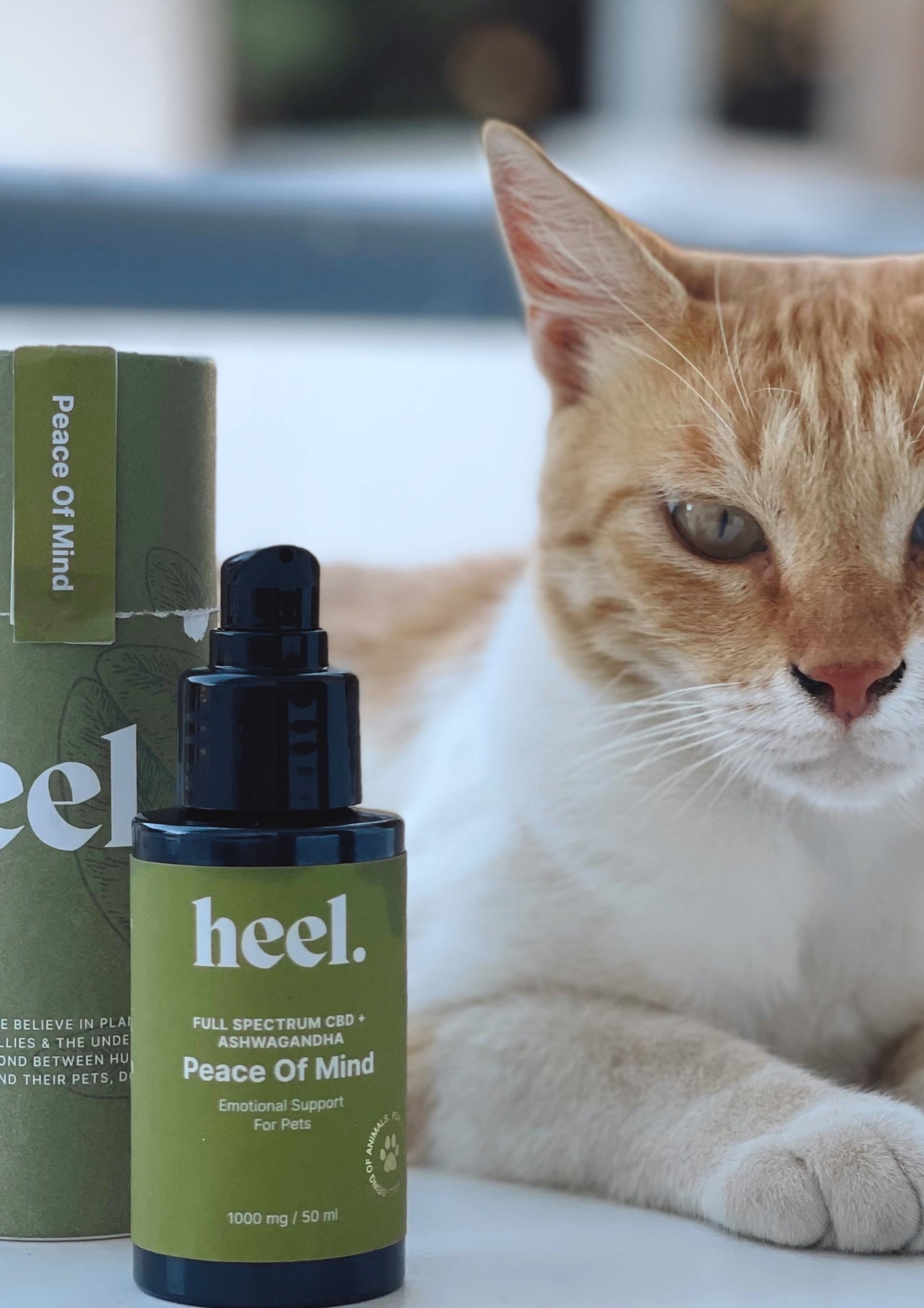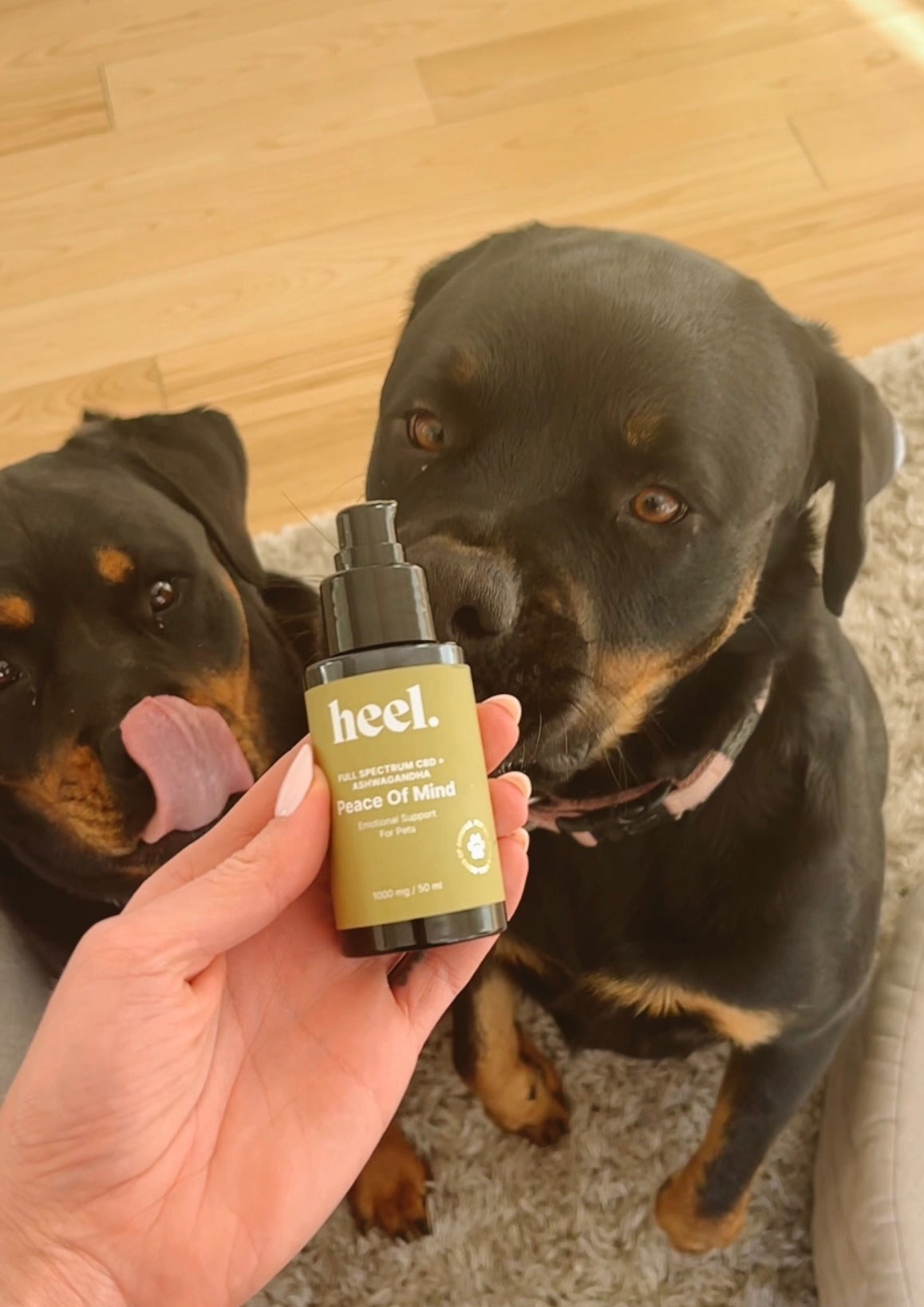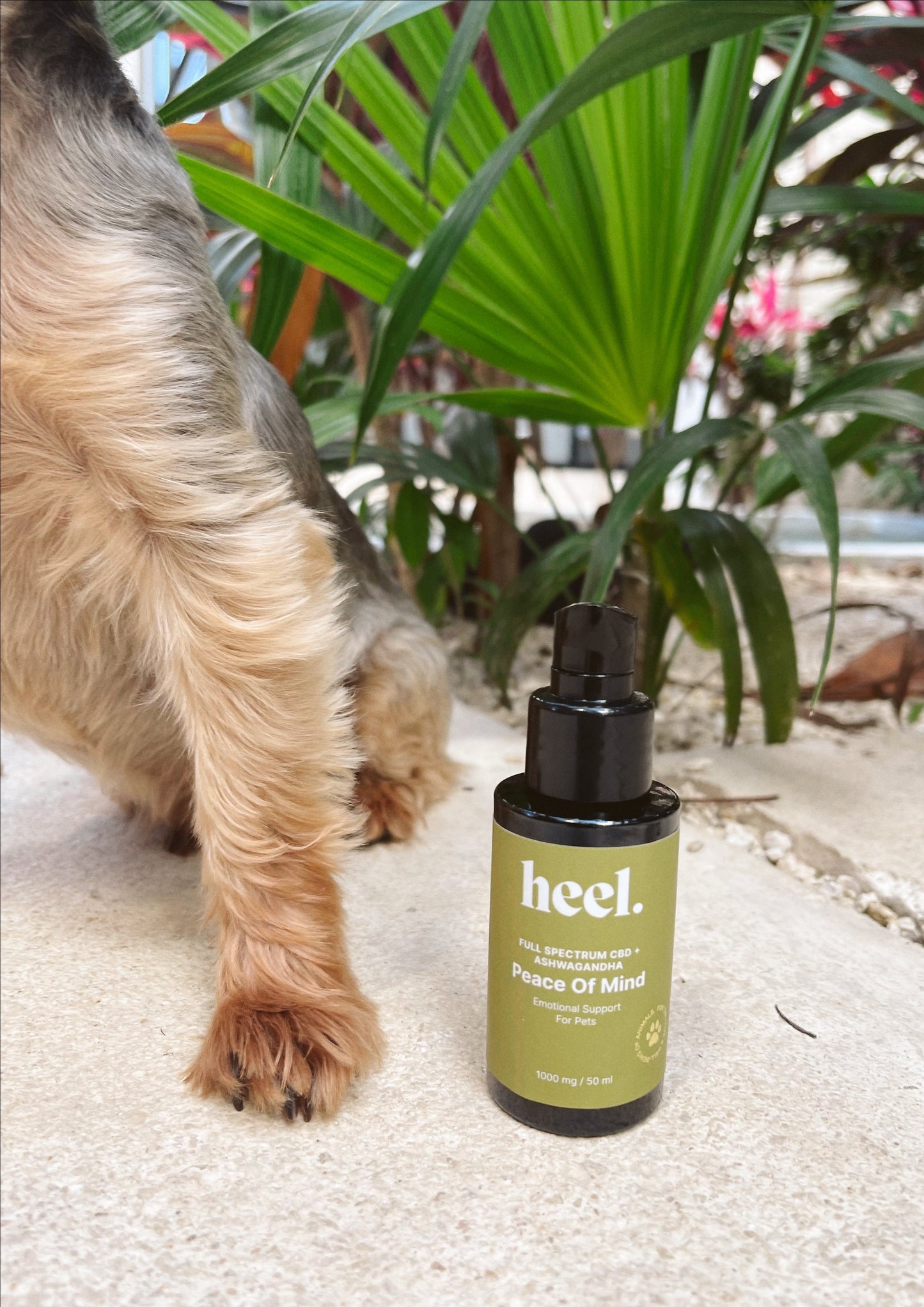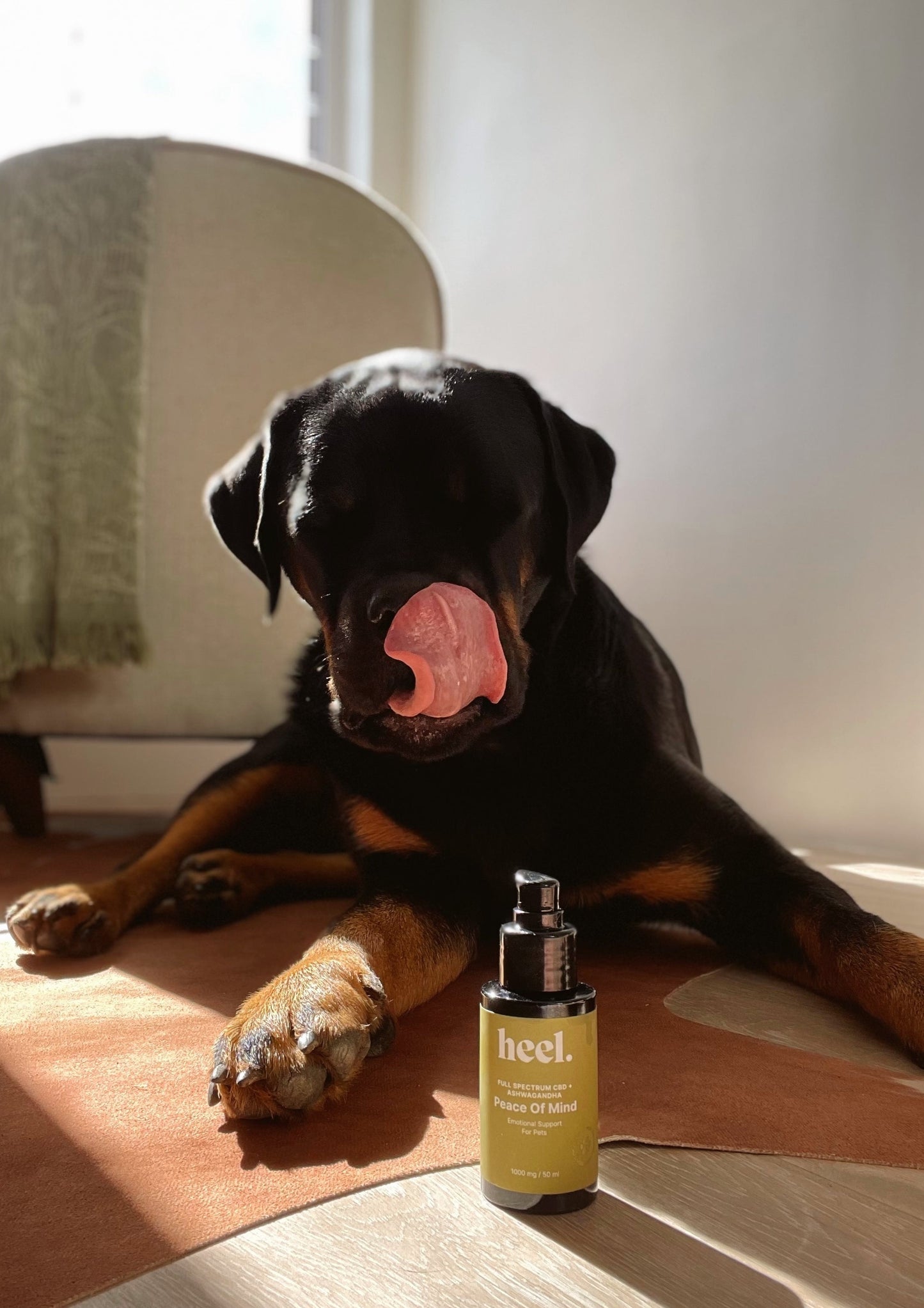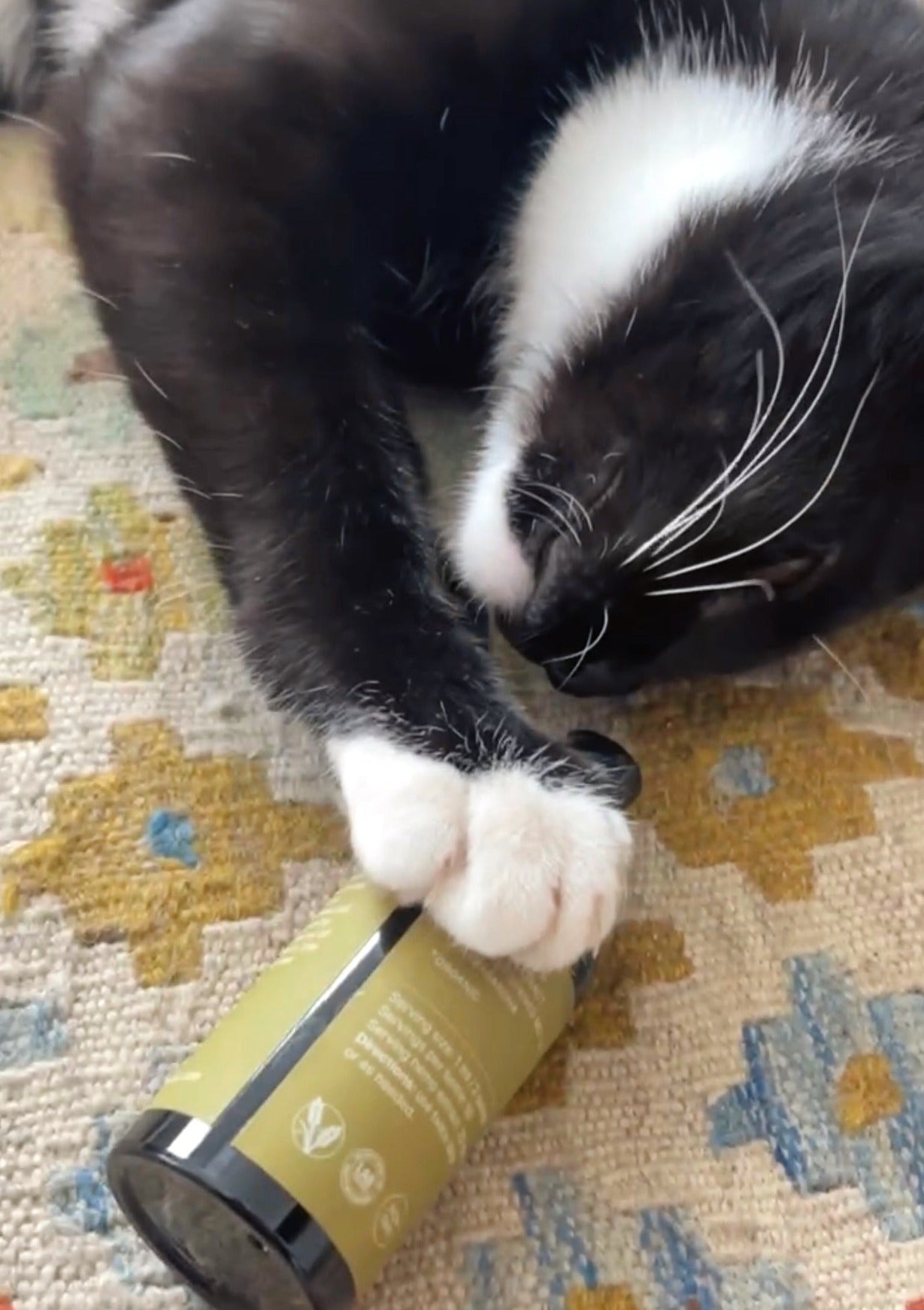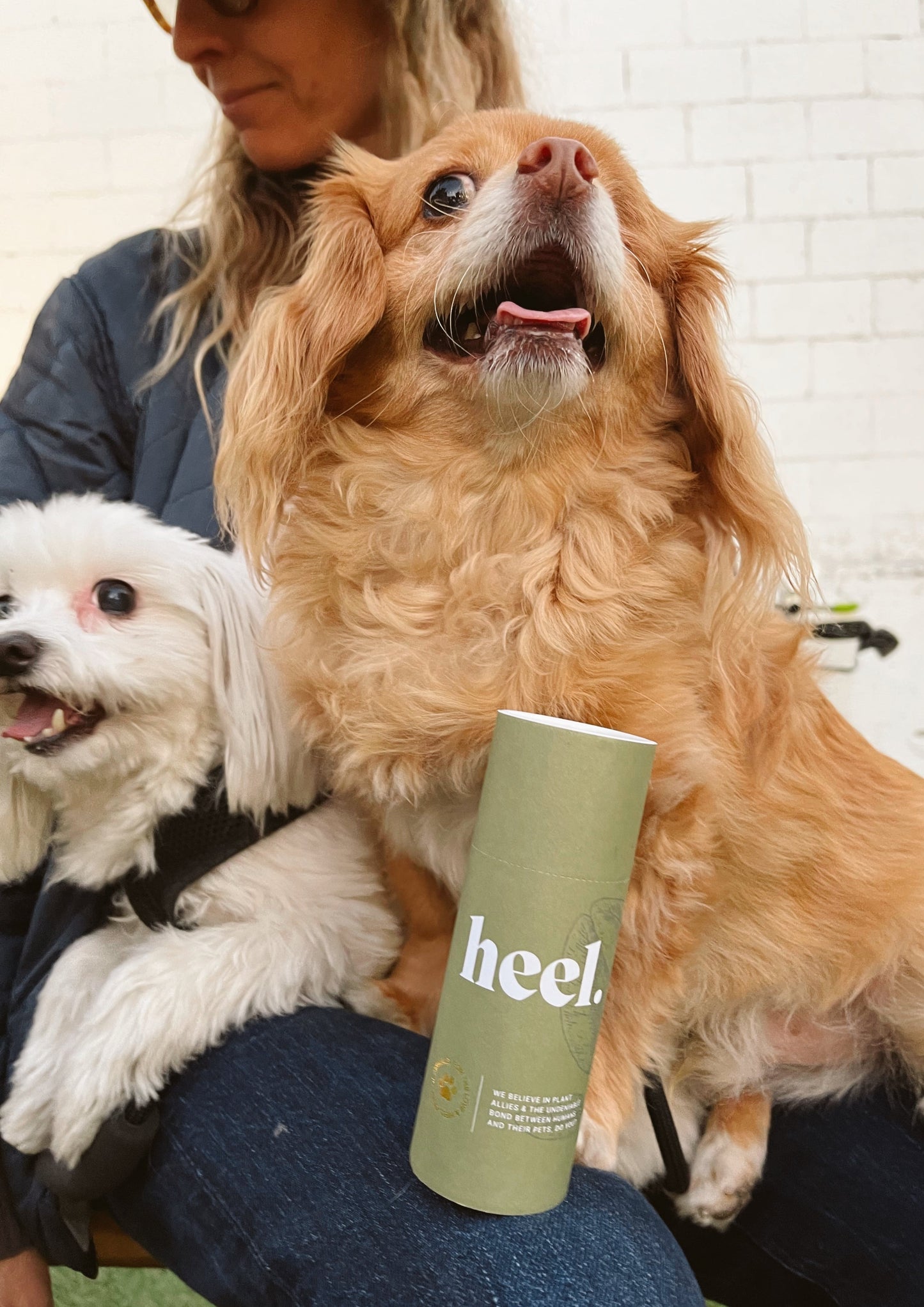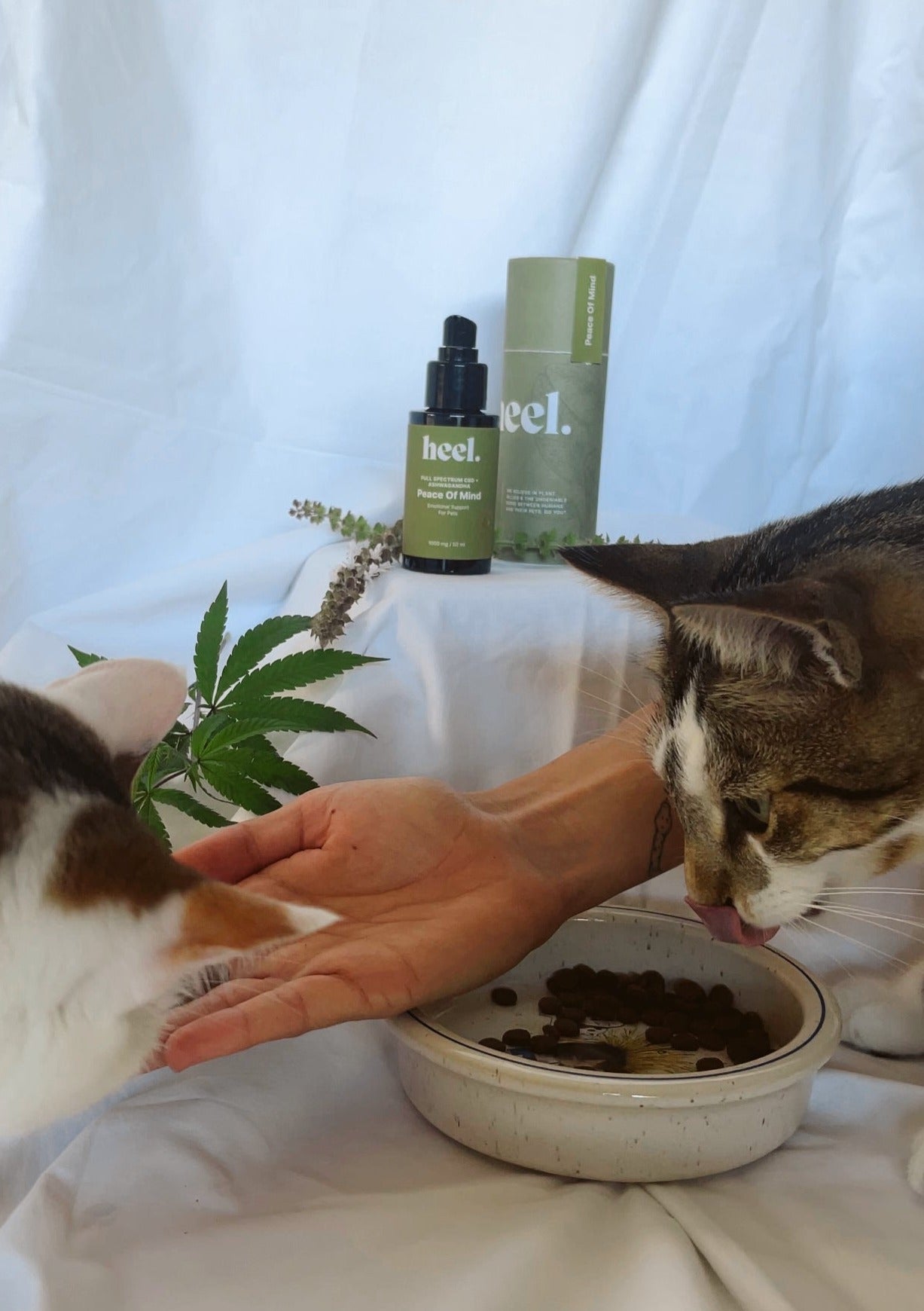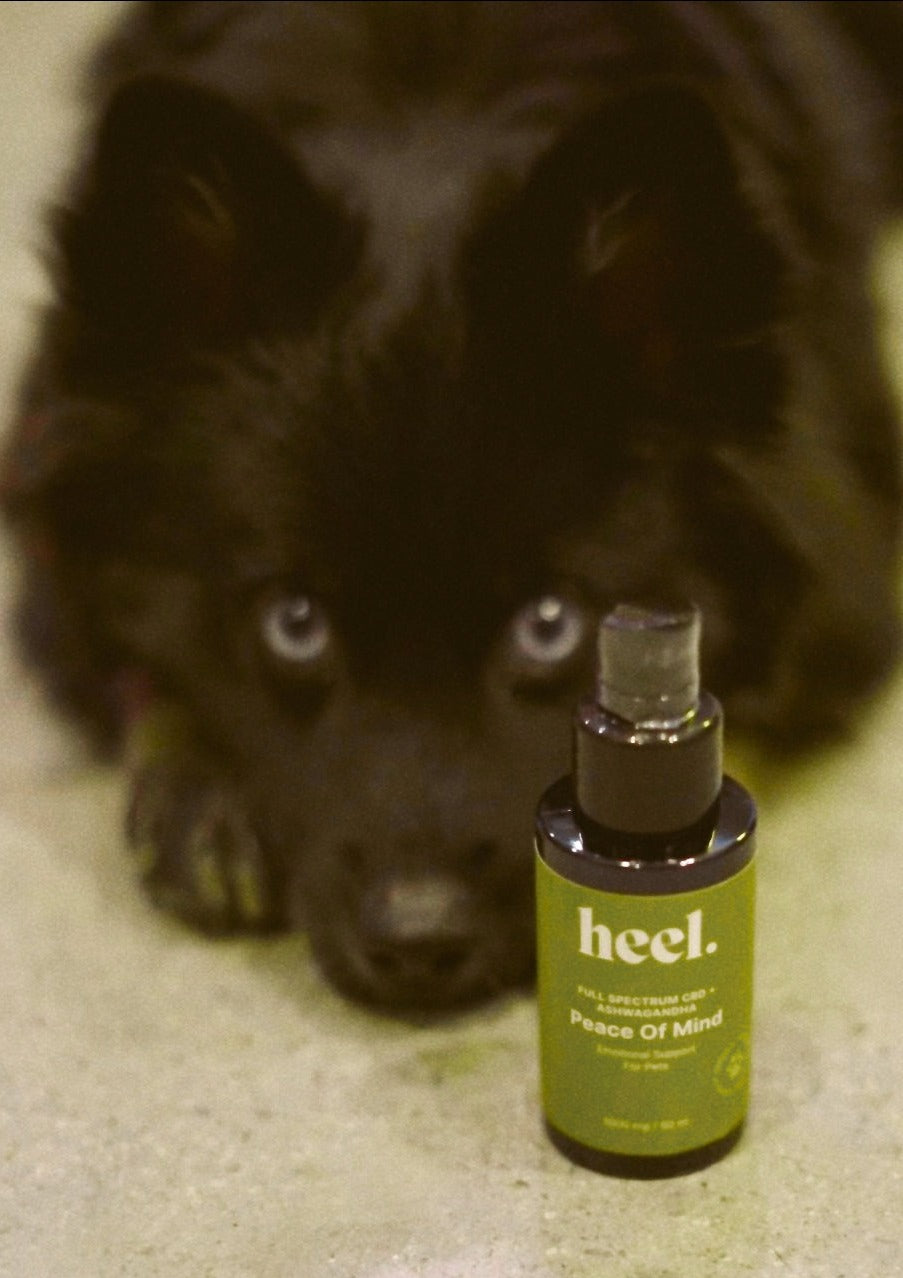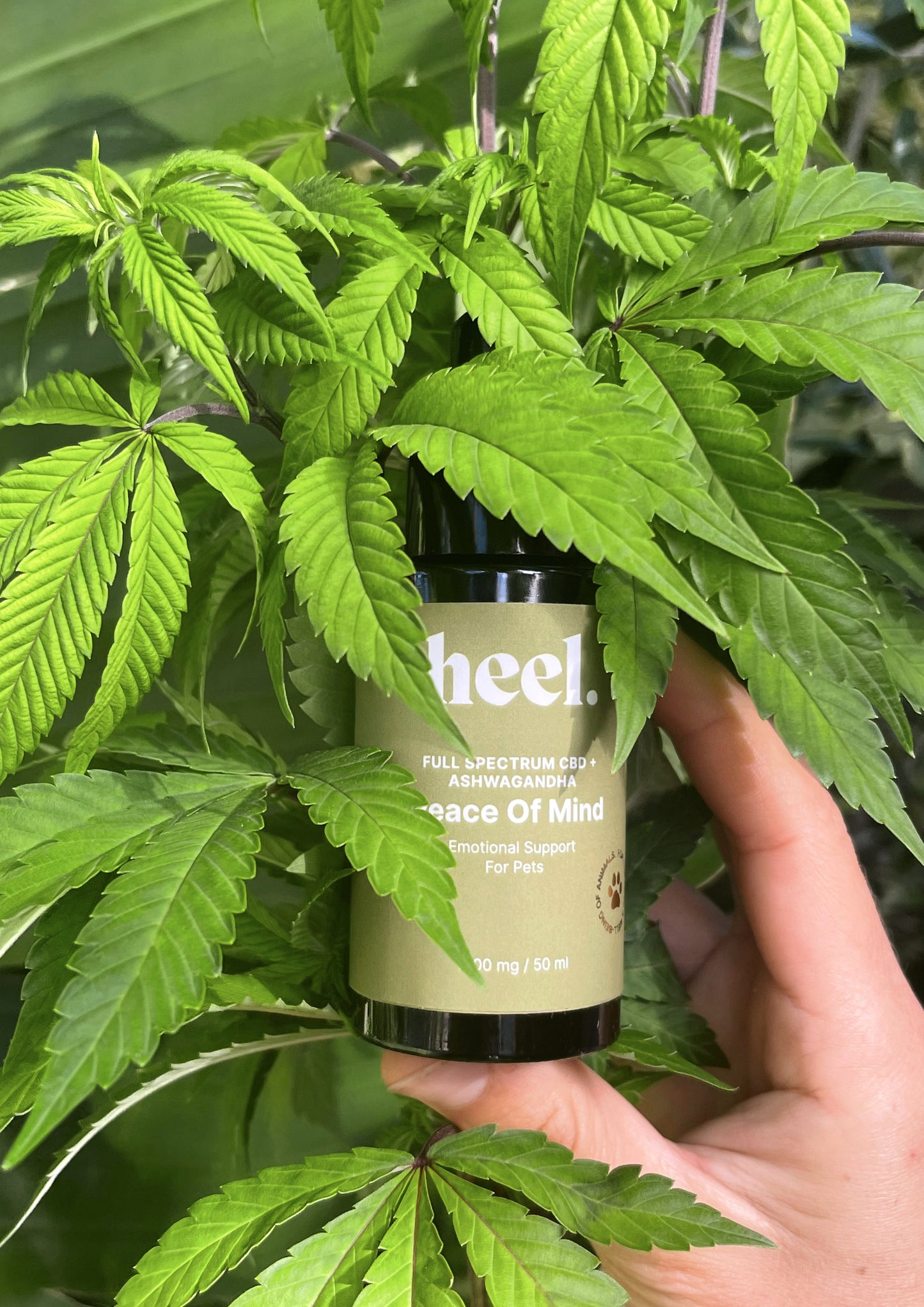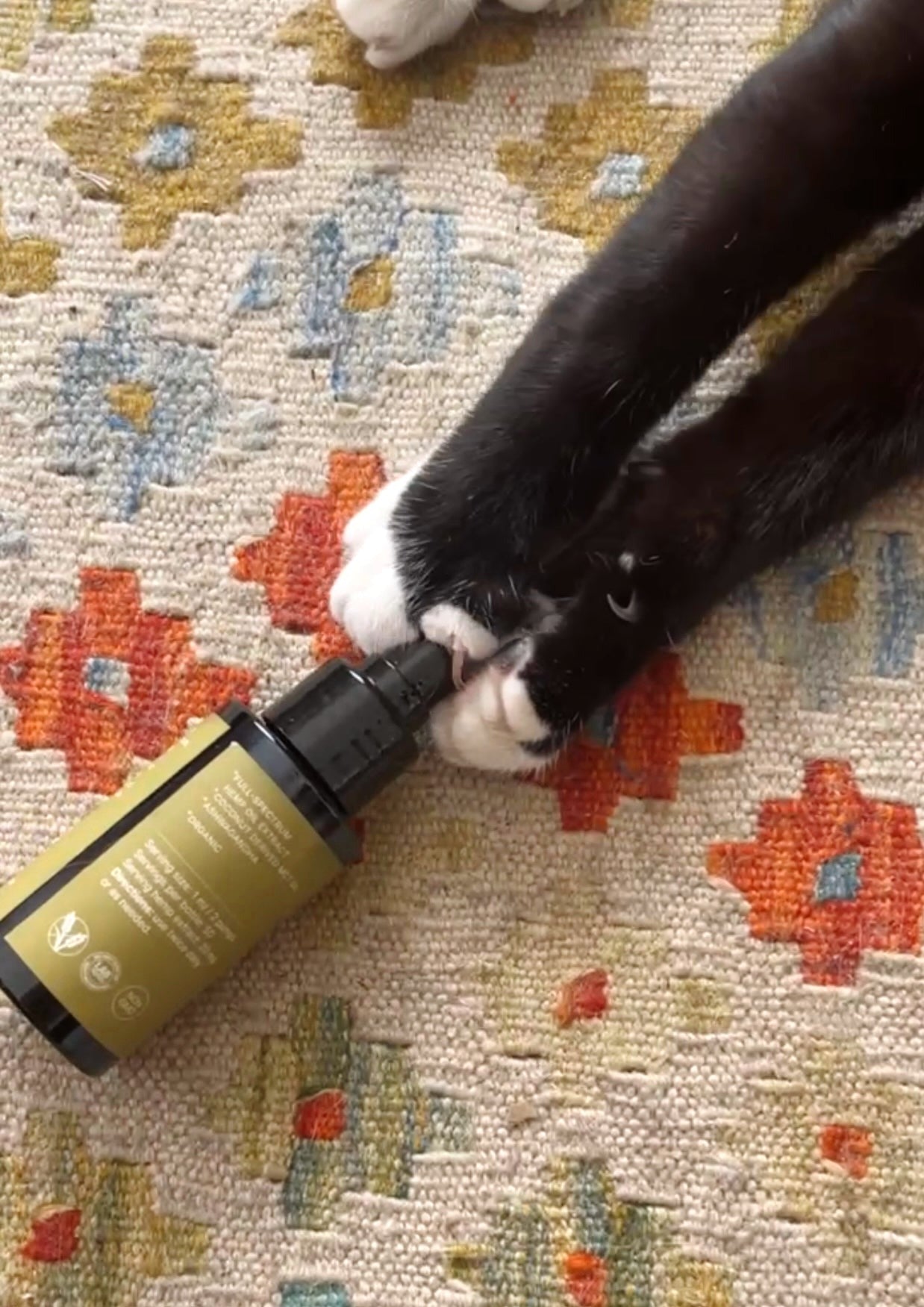 Fireworks Stress Minimized
I don't usually write reviews, but this product truly deserves it. I've been giving Heel to my dog for over a month, and I saw the results on July 4th. My dog would freak out on that day, from all the loud bangs and explosions from fireworks, he would literally shake. This time, after taking the CBD drops consistently- his reaction was completely different- he was not shaking, not hiding, and looked a lot more calm. I knew it was working! He wasn't happy about the fireworks, but he also was not in panic mode like usually. I would recommend to all of my friends and family to get this for their dogs.
Chilled hounds
I have two dogs one is chilled the other needy and anxious. Since I have been giving him Heel he seems more relaxed and less worried - so chilled dog, chilled owner. I like Sarah's ethos and her clear passion for animals - we love our dogs but Sarah takes empathy to another level.
NO MORE MOTION SICKNESS FOR BELLA
We often go on road trips to destinations requiring driving for many hours.
Leaving our two female rottweilers at home ..... no way, not an option!
Our three year old, Bella, becomes stressed and anxious even before we get in the car.
Once in the car and on our way the vomiting starts and doesn't stop.
We've tried many of the vets recommendations with no luck.
THEN WE FOUND HEEL
We start prepping her with small doses for a week before travelling and then the recommended dosage.
Six trips later and no anxiety/motion sickness and one very Happy Bella and Family.
Thanks to Sarah and Heel for making such a difference in our lives.
They were testing fire alarms in our building and our large dog, Odus, always gets so scared that he starts shaking. Before this could last all day. This time we had heel and within an hour of administering to him, the shakes went away! He was a brave boy again able to resume a normal day and even eat. Heel also helps my fiancé with his phantom pains (double amputee) which is incredible because NOTHING else has worked. Sarah is an angel and we are so grateful to have found some heeling :)
Heel gave my dog a new lease on life
For many years my dog was anxious and the older he got this got worse. He also suffered from bad joints and we tried everything to help (all the powders and food too)! So see your animal suffering is the worst thing ever! And then we found Sarah from heel on tik tok. We decided to give it a go and now Toby is a different dog! It took a few weeks but he is in a much better place! He is calm, happy around other dogs and he is in less pain. He can jump up and off the bed and couches a lot easier and his tail is up and wagging! Thank you heel and for continuing to put pets first!

CBD for pets
CBD or Cannabidoil, is the non-intoxicating component of the cannabis sativa plant that has shown a variety of benefits and works in unison with the endocannabinoid system that exists in humans and pets. We think its pretty cool that we have a system in us that was basically made to dance with these plant allies!

CBD can influence brain activity in animals, which allows for some of the potential benefits, such as a reduction in stress and anxiety for dogs and cats. CBD has also been praised for its potential anti-seizure and anti-inflammatory properties

CBD cannot get you or your pets high, if dosed appropriately, unlike THC. Pets should never be given an intoxicating level of THC. It's important to discuss dosage instructions with your veterinarian and to never use products not formulated specifically for pets.


Ashwagandha the mood booster
This Indian ayurvedic medicine, ashwagandha has been used for centuries to reduce stress, restore calm and balance mood. The ancient root is considered an adaptogen, meaning it quite literally "adapts" to your individual system, its gentle and there is no "on and off switch" like there would be with medication.
Its a gentle yet effective mood booster and we have personally seen wonderful results with our clients using this formula and reporting a more bouncy, calm, optimist in their fur baby. Theres a reason so many of you have a subscription!
Hassle-Free Exchanges

You can return a product for up to 30 days from the date you purchased it. Read more here about refunds